Custom Targeted IV's with Dr. G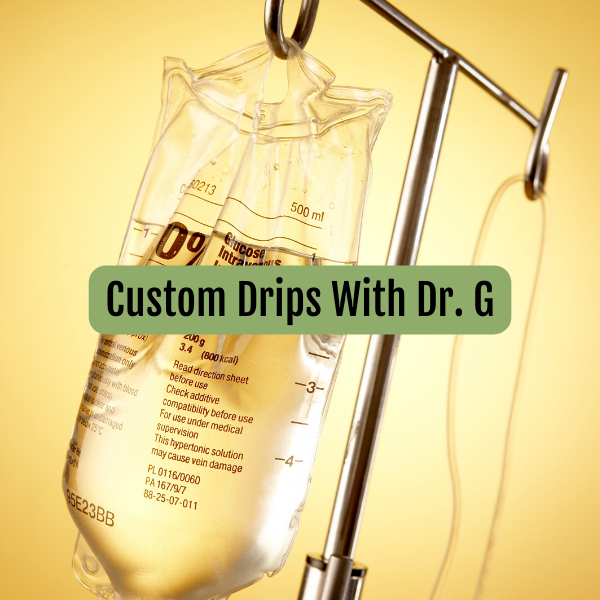 Most people who suffer from a chronic illness have less than optimal digestion. When food isn't digested properly, nutrients aren't absorbed into your body the way they should be.
Sometimes, chronic illnesses make it hard to keep certain foods down. (Chemotherapy patients often experience this too.) When this happens, your body can become malnourished and dehydrated.
IV therapy can help. It skips your digestive system, putting the nutrients, fluids, and medicines you need directly into your bloodstream. IV therapy makes a huge difference for many people with chronic illnesses.
Dr. G can review your underlying concerns specifically and develop a custom targeted infusion to address your specific concerns.
 

Specific Symptoms That Can Be Supported With IV Supplementation: 

 
 ACNE | ALLERGIES |  ANXIETY | ARTHRITIS | CARDIAC CONCERNS | CHELATION | DEPRESSION | DETOX | EYE HEALTH |  FATGUE |  FAT METABOLISM |  FEVER |  GUT SUPPORT |  GLUCOSE SUPPORT | HAIR LOSS | MIGRAINES | HYPERTENSION |  IMMUNE SUPPORT |  INFLAMMATION | MEMORY | MUSCLE CRAMPING & FATIGUE |  NEUROPATHY | DERMATOLOGIC CONCERNS |  VASCULAR SUPPORT |  WOUND HEALING
Schedule Your FREE Consult Below To See How Dr. G Can Help You Today!