Finding YOUR Personal Struggles; Breaking Them Down; & Ditching Them.
Our Metabolic Reset plan includes accessing your macronutrients: This is the proportion of fats, carbohydrates, and proteins that are best suited to your body's needs. 
▸This mix can be different for different people depending on your genetics and your lifestyle.
We will start out by making small changes and creating goals that work for you. We will figure out why you haven't been able to make the changes and get "un-stuck".
For some clients, safe and effective prescriptions such as Phendimetrazine, Contrave, Naltrexone, Bupropion, Saxenda (liraglutide),  and/or semaglutide (GLPs),  will be a part of the medical weight loss journey.
Accountability  | Encouragement  | Unconditional Suppor
What Top 3 Things Are People Struggling With?
We've compiled a list: #1 What to eat. There are soooo many diets! The only ONE that will work for you is one that is sustainable for you! Love Carbs? Keto isn't for you. Hormones a wreck? Maybe Keto is what you need to get you off the ground! We're here to tailor to YOUR needs! 
Micronutrients & The Brain: How To Optimize
If your body is lacking critical vitamins, minerals and other essential nutrients, it will set up a pattern of cravings as your brain is seeking adequate amounts of these trace substances. For instance, if you're lacking in zinc, you won't wake up hungry for the metal itself but rather with the general craving that will compel you to continue consuming adequate amounts of that which is needed.
Functional Activity: All About How YOU Work!
You really don't have to "kill yourself" in a gym everyday to see results, and in most cases this strenous activty for adults can wreck havoc on your hormones and stress levels in the body, helping you "hold in" those pounds. Too much, or the wrong kind of exercise can actually be counterproductive in pursuing your weight loss goals.
Pharmalogical Assistance:
For some clients, safe and effective prescriptions may be a part of the medical weight loss journey. These can be carefully balanced to support your behavioral change. In many cases patients continue to succeed after cessation of pharmacologic support. In other cases, intermittent cycles are required to maintain healthy weight.  We know it takes years for new behaviors to become permanent.  Our maintenance program has kept virtually all of my clients at their target weight.
We Have Options For Weight Loss At Infuzed IV!!
Semaglutide Weight Loss at Infuzed IV
Semaglutide was originally developed for the treatment of type 2 diabetes. When combined with diet and exercise, it improves blood sugar levels and reduces the risk of cardiovascular events like heart attacks and strokes. In June 2021, the FDA approved Wegovy (2.4mg) injection for the treatment of obesity. Unlike stimulant-based medications, Semaglutide can be prescribed for patients with cardiovascular diseases like type 2 diabetes, high blood pressure or high cholesterol, helping to improve not just weight but overall health for patients who need it the most.
Semaglutide is administered via subcutaneous injection. It mimics the hormone known as glucagon-like peptide-1 (GLP-1), a substance that affects the areas of the brain that help regulate food intake and appetite. Semaglutide is offered at Infuzed IV Bar in DuBois Pennsylvania as part of a comprehensive weight loss progr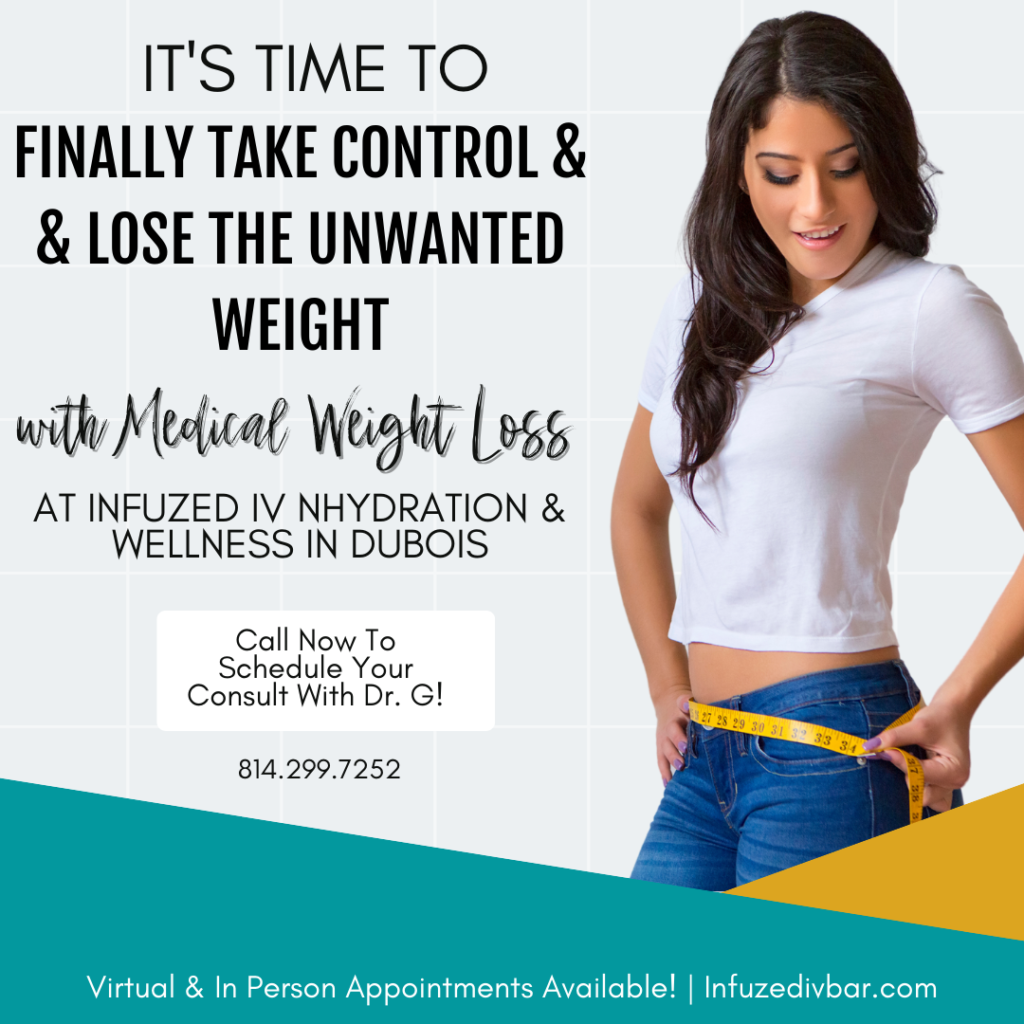 Because it is not a stimulant, Semaglutide is a good solution for those who may not be able to take stimulant-based appetite suppressants such as phentermine. Stimulants are often not prescribed for patients who have existing cardiovascular disease as they can complicate these conditions. Wegovy can actually reduce the risk of a cardiovascular event while also causing weight loss.
Semaglutide can be prescribed for adults with a BMI of 30, or adults with a BMI of 27 and at least one weight-related co-morbidity (not including diabetes). Wegovy is for patients who want to lose weight, especially patients with type 2 diabetes or whose weight puts them at risk of a serious cardiovascular event (like heart attack or stroke).
Semaglutide does have a variety of side effects for some, but minimal for most. Patients who continue the medication have reported an improvement in any side effects after four weeks. 
Semaglutide slows down the rate at which your stomach sends food to your large intestine. This results in slower digestion (which improves blood sugar) and a longer feeling of fullness. It also stimulates the pancreas to produce more insulin, removing sugar from the bloodstream.
Patients on Semaglutide have reported reduced appetite and a reduced craving for sweets, both of which contribute to weight loss. Patients also report that over-eating while on Semaglutide results in unpleasant side effects, which discourages poor eating habits. Semaglutide is prescribed in combination with diet and exercise.
Losing weight with Semaglutide requires a regular physical fitness regimen, dietary support, and healthy eating habits. The program begins with an initial consultation to review your medical history, discuss your weight loss goals, and determine if Semaglutide is an appropriate treatment for you, along with an initial nutrition consultation. If approved, you will meet with a Health Coach and doctor on a weekly basis, and will receive ongoing medication support from Dr. David Girardi, Obesity Specialist.  
Semaglutide is a prescription drug and must be prescribed by a doctor. If you have already tried other appetite suppressant medication and have not found success, or if cardiovascular risks like high blood pressure prevent you from taking stimulant medications, Semaglutide may be a solution for you. Our doctor at Infuzed IV Hydration & Wellness will discuss whether Semaglutide is a good solution and can prescribe Semaglutide if it's determined to be the best option for you. You will meet weekly in the office at 339 Midway Drive for your injections.
Pricing: 
Month 1&2: $249/mo
Month 3&4: $399/mo*
Month 5+: $449/mo*
*Save $100 when you commit to 3 months with Infuzed Loyalty Program! Ask us for details
Includes doctor consults, meal plans, weekly check ins, and ongoing coaching
*pricing for month 3+ depends on dosage tolerance.
**May be reimubursed through your insurance company! 
Enjoy Now, Pay Later with Cherry! 

For Any Successful Weight Loss Journey...
Weight loss is hard, guys! We all know it! We here at Infuzed IV want you to be fully aware of what you can achieve with our programs but we also want you to be aware that weight gain is usually a symptom of something else. We come at you with a whole body apporoach and want you to be aware of other factors going on in your life that may be contributing to the weight gain such as stress, diet, excerise (lack of or excessive), sleep habits, drinking habits, and lifestyle habits in general. We want this to be more than weight loss for you. We know if takes more than a prescription to see the ultimate goal. Our ultimate goal for you is a complete lifestyle overhaul and we hope you'll continue your journey to health with all of us at Infuzed IV. 
How Fast Can I Expect Changes?
We really wish there was one answer for all, unfortunately this isn't the case. Some people may only need 3 months of ongoing coaching and guidance and others may need 6+ months. That is what our consults are for. Let Dr. G help you with real life expectations and results from others in the clinic who may have similar situations as yourself. We really feel a minimum of 3 month commitment is what is needed to start seeing and feeling the change from within. Long term success is our goal here for you. 
Have you ever heard the quote:
"It takes 4 weeks for you to see your body changing. It takes 8 weeks for friends and family and it takes 12 weeks for the rest of the world"… it really does state truth and want you to know this will not be an overnight thing. With our years of coaching and success, we want you with us for the long haul! 
We will be with you step by step, the good, the bad, and the ugly. 
Other Weight Loss Options At Infuzed IV
We understand that not all may be approved for Semaglutide and want you to know there is still help! 
We understand the struggle of being right under the "bmi" of acceptance. You're still struggling so you don't understand why this isn't for everyone struggling! We get it. We have other options for this reason. Some other options include the below: 
The Bella Capsule is a custom weight loss support supplement with the most potent and medically proven ingredients on the market.
We have different variations of the Bella capsule that may include:
Bupropion HCL
Topiramate
Naltrexone
Methylocobalamin
Caffeine
Oxytocin
Topiramate
Sermorelin is also known to help patients lose weight because HGH increases the production of Insulin-like Growth Factor-1 (IGF-1). Higher levels of IGF-1 result in higher levels of metabolism. As we all know, a fast metabolism will help in burning more calories while increasing your energy and endurance during fitness regiments. Who's not excited about burning more fat and eliminating those pesky calories once and for all? We know we are.
Metformin Synergy Capsules
Metformin synergy is a stack of three medications that synergistically stimulate Sirt1, an enzyme that regulates energy and fat metabolism, with B12, a vitamin that boosts energy levels, reduces fatigue, and kick-starts an otherwise sluggish metabolism.
Bella, Sermorelin, & Metformin Synergy Plans $129/mo
includes physician consult; meal plans, and on going coaching